1 Oz Chinese Silver Panda – 2012 – One Troy Ounce – .999 Fine Silver Coin
1 Oz Chinese Silver Panda - 2012 - One Troy Ounce - .999 Fine Silver Coin
Current Price:
40.63


Current Bids:
13


purepaloma Store


1 oz Chinese Silver Panda - 2012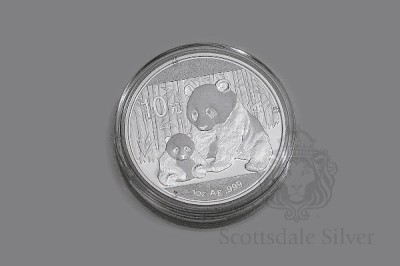 Click to see supersized image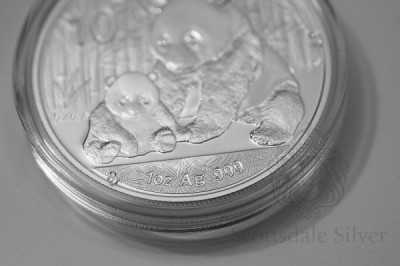 Click to see supersized image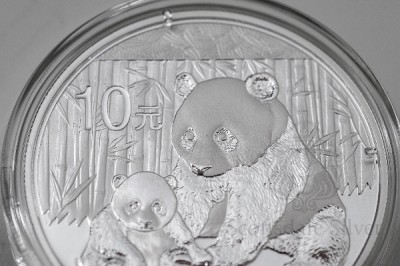 Click to see supersized image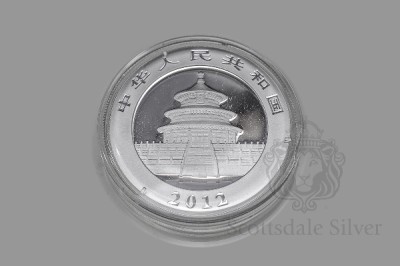 Click to see supersized image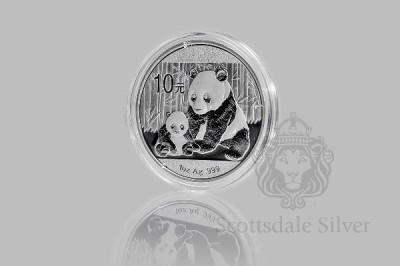 Click to see supersized image
SCOTTSDALE SILVER presents:
The 2012 China Panda Silver Coin
-
One (1) Troy Ounce Chinese Silver Panda Coin
.999+ Pure Silver
Brand New Brilliant Uncirculated
Comes Sealed in Original Mint Capsule
The highly sought after 2012 One Ounce Chinese Silver Panda is now available for our fine silver investors who appreciate a coin that is valuable for both its bullion content and its collectibility. Struck from 1 Troy Ounce of 99.9% Pure Silver, the newest Silver Panda is sure to be as popular as its predecessors. Grounded in ancient traditions from the teachings of Confucius to the celebration of the New Year, the people of China take great pride in honoring their country. Well known for their delicate artistry, they employed some of China's greatest new artisans to create the original Gold Panda in 1982. Such was the demand for the beautiful Gold Panda that the Chinese Mint responded with the silver series in 1983. The Silver Pandas immediately became a resounding success. Like its predecessors, the 2012 Silver Chinese Panda series is minted at the Shenzhen Guobao, the Shenyan and the Shanghai Mints by the People's Republic of China. The 2012 Silver Panda is a state issued coin and can serve as legal tender for the purchasing of goods or services. The Silver Panda's value in bullion, however, is far greater than its stated face value of 10 Yuan. Therefore, these beautiful coins tend to retain their mint condition over time as well as their value. In addition, because the design of the Panda on the reverse side of the coin changes every year, the Silver Pandas have become particularly popular with coin collectors around the world who eagerly await their release every year. The annual design change typically results in higher premiums for these fine coins when compared to other silver bullion coins minted with the same design each year. Another reason their value has increased with time could be explained by their very limited release. The earliest issues are particularly valuable. Therefore, it should be no surprise that since the Silver Panda's introduction in 1983, its popularity has grown steadily with time. The 2012 Chinese Panda series, also available in gold, eventually became one of the most successful bullion coins of the 1980's. Each Chinese Silver Panda arrives in a mint- issued capsule in brilliant uncirculated condition. The Silver Panda is also available in the five ounce size, and we invite you to complete your collection by selecting both sizes in silver and the five gold options, as well. The design of the 2012 1 oz Silver Panda follows an admirable line of handsome predecessors and features a new depiction of the beloved panda bear annually. In ancient times, pandas were considered rare and noble creatures. Emperor Wen's mother is said to have been buried with a panda skull, and pandas were sometimes given as gifts to foreign nobility as offers of good will. Today, China continues to share her pandas with many nations as unofficial diplomats. Now beloved and protected around the world, the panda bear has become a national symbol of China. The reverse usually features a playful panda bear: watching over cubs, munching on bamboo, sitting by the water's edge, or walking through the forest. Each issue features a decisive variation in the design, and this makes each new issuance highly anticipated. The obverse or front of the 2012 Silver Panda is equally beautiful. It boasts an architectural wonder, the historic Temple of Heaven constructed from 1406 - 1420 during Yongle Emperor's reign to celebrate the Harvest Ceremonies during Winter Solstice. In 1988, the temple was declared a UNESCO World Heritage Site and has been described as "a masterpiece of architecture and landscape design." The Chinese characters are inscribed across the top which means People's Republic of China, and the year of issue is inscribed across the bottom of the front of the coin. Each one ounce Silver Panda weighs 31.22 grams and measures 39.0mm in diameter. We are confident that you will find the 2012 Silver Panda as fine an addition to your silver bullion portfolio as its predecessors, and you can rest assured that yours will arrive in brilliant, uncirculated condition. The Silver Panda is a beautiful way to diversify your investment portfolio or to add to your collection of fine coins.
Private Auction - Allows buyers to remain anonymous to other eBay users
Scottsdale Silver...the most distinguished name in bullion
CLICK HERE FOR MORE INFORMATION ON BULLION
Free Regular Shipping and Free Insurance
Upgraded Shipping available
This auction will ship to the USA ONLY. Please contact us for options to ship internationally. Sorry, no APO/FPO/DPO.

PayPal Preferred - No Sales Tax

Due to the volitile nature of the Market: ALL SALES ARE FINAL & Payment must be made within 48 hours.

Scottsdale Silver GUARANTEE: Whether you buy a Scottsdale Silver branded product or a different item from us, we 100% guarantee it to be authentic. When you buy directly from Scottsdale Silver & Gold you are purchasing from one of the most respected Metals Companies in the industry. Our facility is based in Arizona and we are one of the largest sellers of bullion on eBay. Check our Feedback and Bid with Confidence. Why take chances buying from private individuals or lesser known sellers?

 Email us through the Ebay system or Google "Scottsdale Silver"



This auction is valid until 2012-08-11T02:38:52.000Z

You might also be interested in these current auctions:

Items recently purchased through this site:
Tags:
panda coin
Related Posts